1 Collection Inspires 7 Easy Projects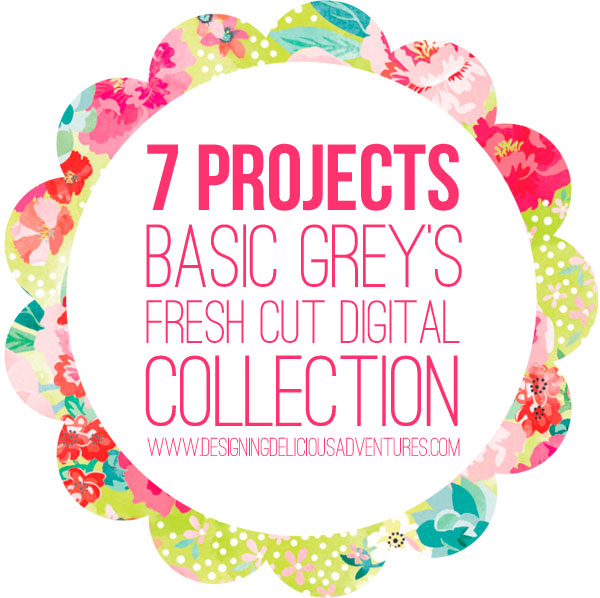 I'm so excited to be celebrating 7 years of JessicaSprague.com.... what a milestone! In honor of this special anniversary, I'm sharing 7 easy project ideas that all use digital products from Basic Grey's Fresh Cut Collection.I just LOVE the colors and designs in these digital packs- they are absolutely perfect for your spring and summer projects. Here's what I came up with:

1. Bottle Tag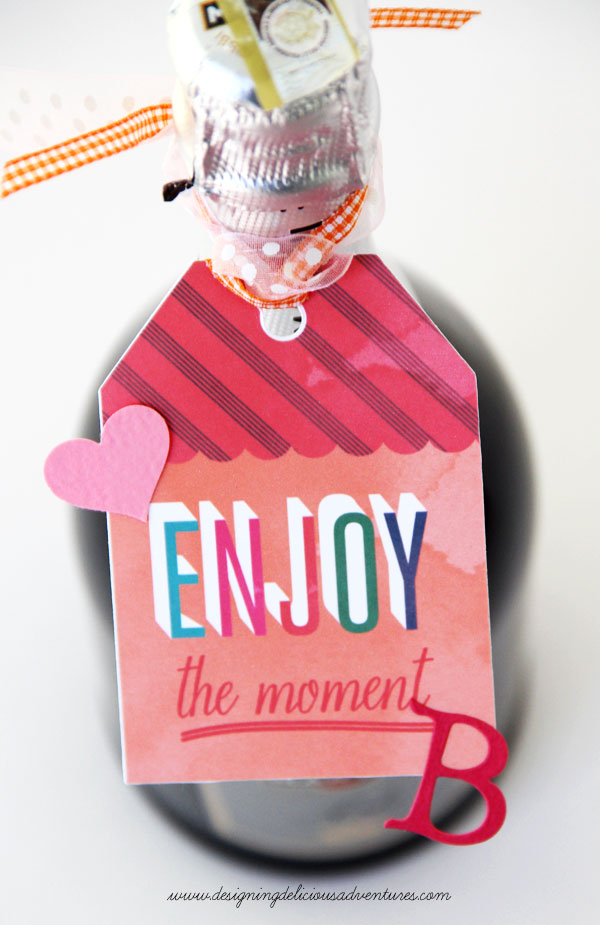 I attached Element 60 from Element Pack 1 to a bottle of bubbly that I was giving as an anniversary present to our good friends. I threaded 2 strands of pink and orange ribbon through the festive tag to secure it to the bottle. A little "B" letter monogram (for their last name) and pink heart were the perfect embellishments to complete this DIY gift.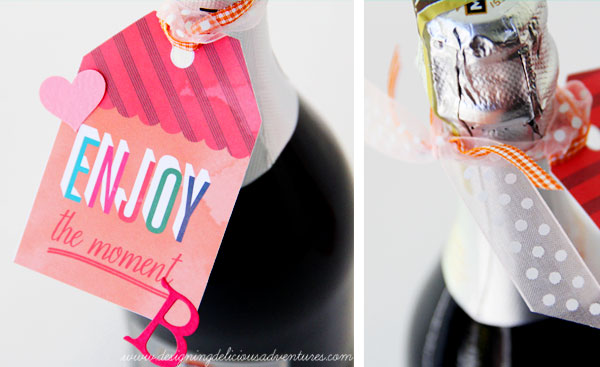 2. DIY Card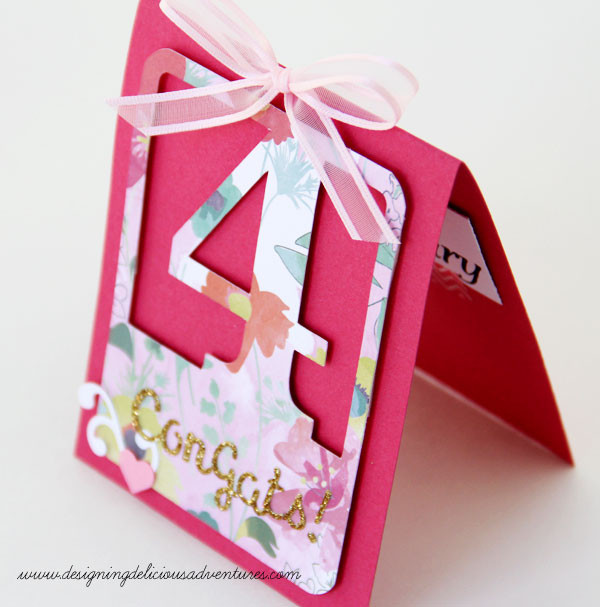 To accompany the bottle, I included this cheerful card. Here's a quick tutorial:
Create a 4x6 transparent document in PSE.
Open the beautiful floral background paper included in the Fresh Cut collection AND the vertical "4" element from the Basics Life Cards Number pack.
Drag the "4" to your new document and size it take up most of the space.
Clip the floral paper to the number element.
Save this file as a PNG.
Open this file in your Silhouette software.
Trace the outer edges of the graphic and then use the print and cut features of the Silhouette.
Add gold sticker letters to the bottom.
Embellish with ribbon, a small punched pink heart, and swirl element.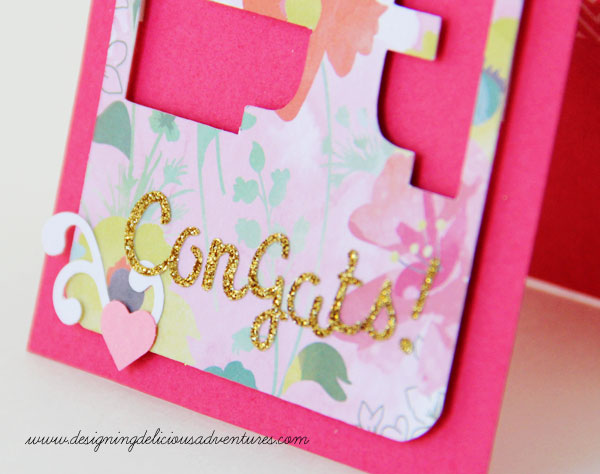 3. Dressed Up Envelope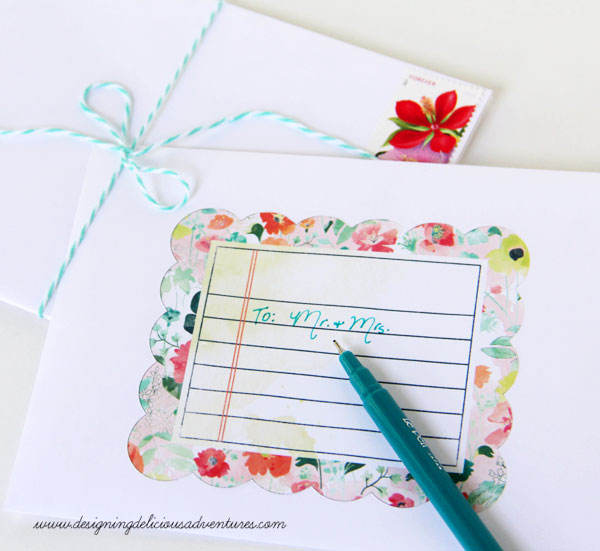 Be gone boring envelopes! To dress up my mail, I glued Element 7 from Element Pack 3 to a plain envelope. This gorgeous graphic instantly became the perfect frame to house the recipient's address! Don't you love happy mail!? Tip: Definitely use thin copy paper to this project so you don't weigh down your envelope and have to pay extra postage!
4. Photo Embellishment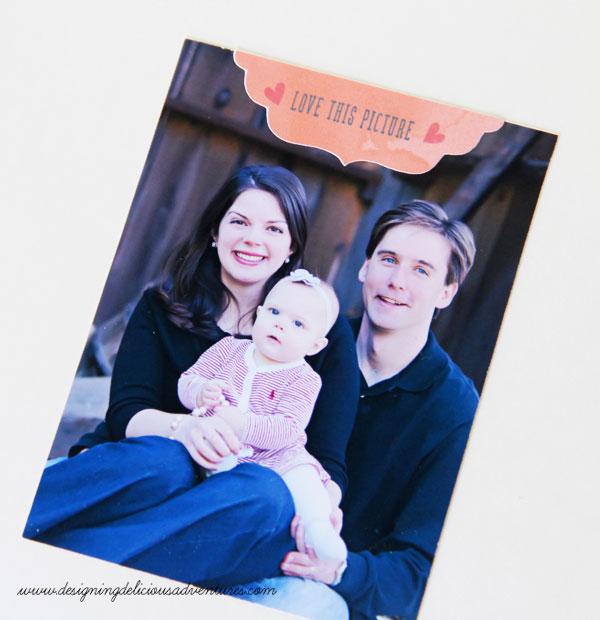 The Fresh Cut collection is FULL of awesome elements to add to your photos. I couldn't resist placing this scalloped embellishment at the top of a treasured pic!
5. Project Life® Layout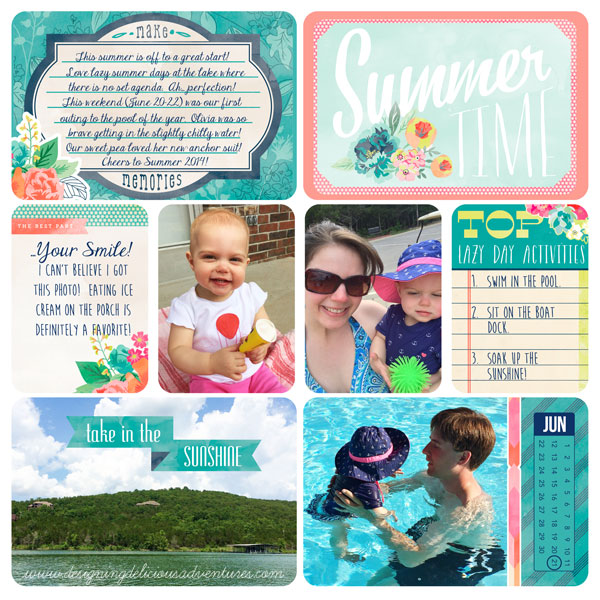 This fully digital layout was made almost exclusively using papers and elements from the Fresh Cut collection clipped to a Life Template. The Fresh Cut journaling cards are so handy for documenting your summer memories!
6. Unique Recipe Card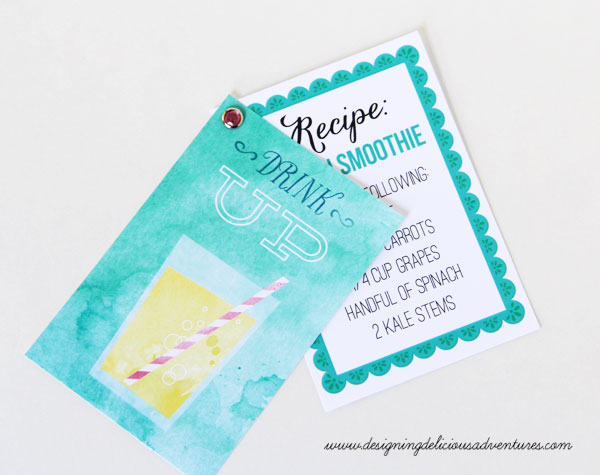 This project features a reinterpretation of "the classic recipe card"! I used
Element 22 from Element Pack 1 and Element 9 from Element Pack 2 to create a one-of-a-kind interactive recipe. The darling DRINK UP journaling card swivels out of the way to reveal a delicious smoothie recipe. A jeweled brad set this project in motion! :)
7. DIY Art Print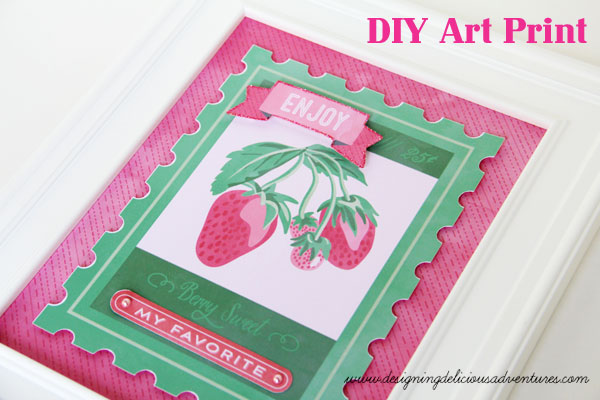 When I think of summer, I think of swimming, lazy days, sunshine, AND strawberries! To celebrate the season, I created a little art print featuring Element 45 from Element Pack 3. Here's a brief tutorial:
Open an 8x10 new document in PSE.
Drag Paper 3 from Paper Pack 2 onto your document.
Print this out and place in a frame.
Open a new 8x10 transparent document in PSE.
Drag Element 45 from Element Pack 3 onto your document and size it so there's about a 1-1.5 inch margin around the top and bottom.
Save this file as a PNG.
Open your new file using your Silhouette software.
Trace the outer edges of the graphic and then use the print and cut features of the Silhouette.
Attach this cut-out element to your frame using double sided foam tape.
I took this project one step further by adding 2 banner elements. I glittered the edges of the ENJOY banner and attached it to the main strawberry stamp using 2 layers of foam tape. Two small pink pearls glued to the "My Favorite" element completed the look!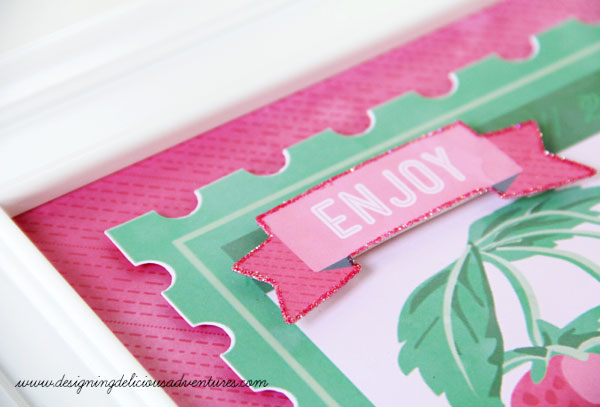 I hope these 7 ideas inspire you to create something TODAY from this beautiful designer collection!