Double Page Summer Digital Scrapbook Layout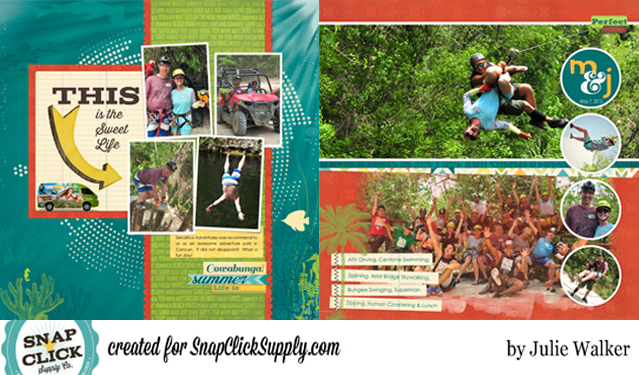 Happy Summer, y'all!
I'm Julie from Texas and I'm here to show you how easy it is to create a Digi Double Page Layout using two individual page templates. If you're like me, you like your facing pages to coordinate - in colors, theme, and photos-from-the-same-event kind of way. In fact, this is a MUST for me.
So, here's what I started with:
Jessica Sprague's Sweet Life Template. And...
Then, I picked out a really SUMMER-y collection of papers + elements by Bo Bunny.
I just loved how this Key Lime Collection went with my summer adventure photos from a recent trip to Mexico. This kit would also work with pictures from the pool, boat, and of course, the beach!
As you can see, I just clipped in papers, photos, and a few elements. I even added a little logo to my page, which I copied from the Selvatica Adventure Park's website. I often do this as it's like attaching a physical memento from a trip (almost like saving a postcard, receipt, or other souvenir).
As for page 2, I simply moved the elements that were originally on the left side of the page to the right side (and vice versa). I felt like this just balanced out the layout better. I stamped a large, watercolor type brush to the bottom of this page and then clipped in the group photo. And finally, I added a little journaling and a date to finish the pages.
I love working with templates and kits. This makes it super easy to put everything together - FUN & FAST!
Supplies:
Jessica Sprague's Template15-Sweet Life and Template15-Friends Forever 12x12 inch PSD templates.
BoBunny's Key Lime Full Collection Kit.
Liv.E Design's My Paintbox Volume 1 Brush Set.